Nowadays, to join or to be part of the Digital Transformation Era is a crucial to any business strategy. And one of the most important steps you need to consider is how to explore the cloud correctly. With so many cloud solutions in the market, we decided to write this article to help you realize that cloud services are the wisest decision for your business.
With the right cloud solution (or solutions) you should be able to engage your customers, transform products, optimize your operations, empower your employees and save money.
So, let us show you some reasons why you should migrate to the cloud.
Enjoy the reading!
First of all, what is a cloud based solution?
Basically, a cloud based solution refers to on-demand services, computer networks, storage, applications or resources accessed via internet and through another provider's shared cloud computing infrastructure. Besides, the updates and upgrades are usually done by the cloud provider - less work for you.
Benefits and reasons to go for cloud solutions
So, what are the benefits of using a cloud provider when you already have an infrastructure neatly in place (and that took some time to build)?
Well, the following list will point out the main advantages of adopting cloud solutions, though there are many more.
1 - Security
One of the main concerns of companies is how safe a system is and if will it be able to guarantee the data protection. Losing sensitive data can be very expensive.
Cloud computing gives you greater security when this happens. Your data is stored in the cloud and you can access it no matter what happens to your machine.
Besides, saving data is a priority for all IT organisations. Red Hat and Microsoft, for instance, use their extensive experience to build advanced security features into Red Hat Enterprise Linux and Microsoft Azure.
On one hand, Red Hat Enterprise Linux provides security technologies, certifications, and the ongoing support of the Red Hat Product Security team to combat intrusions, safeguard your data, and comply with regulations.
On the other hand, using industry-standard encryption protocols, Microsoft Azure secures your data as it travels to, from, and within Microsoft datacenters, as well as at rest in Azure ecosystem, including your on-premise datacenters.
This helps you to reduce risk, more easily maintain a secure operating environment and protect your organisation's most important data.
2 - Lower your costs
You can switch the high cost of a hardware for cloud solutions with a pay-as-you-go subscription based model. You just have to choose the model that it's ideal for your business and budget. Any type of business can join this kind of solution.
Oh, and it's really easy to use, since most of the cloud solutions are user friendly.
Red Hat together with Microsoft, for instance, can help you understand and manage your cloud spending while maximising the value of your existing investments.
The Red Hat Cloud Access program lets you use your Red Hat subscriptions across your entire IT environment. You can even transfer your existing, unused subscriptions in Microsoft Azure while maintaining your direct support and business relationship with Red Hat and continuing to use your existing operational and procurement processes.
Microsoft Azure's advanced monitoring tools collect cloud use and billing data, giving you full visibility into resource consumption and costs. Besides, you also get automatic alerts when you are at risk of overspending.
This way you have a solution that fits your needs, budget and ease-of-use.
3 - Backup and disaster recovery
Think about losing all the work and data that your business has been working on for the last months, or worse, years. Regardless of your company size, it's important to invest in a safe disaster recovery system. One that fits your budget and that is easy to manage.
Rely on automatic networked backups, like Microsoft Azure Backup Server, for example. You can protect application workloads such as Hyper-V VMs, Microsoft SQL Server, SharePoint Server, Microsoft Exchange, and Windows clients from a single console. You get geographical backups and replicas to ensure that even in the worst case scenario of a whole data center failure, your services will still be up, running and with all your data securely stored.
4 - Easy management
First of all, cloud applications automatically refresh and update themselves. This makes you a more independent organisation, since you won't need a big IT department to perform systems maintenance, although managing cloud resources can be difficult without the right tools and capabilities.
Second, it is much easier to manage than a local data center because you will hire a professional provider that will work on that all the time and it's worried about delivering you the best solution. This way you can focus on what gives you the revenue for your company.
Third, a recommendation: the combination of Red Hat Enterprise Linux and Microsoft Azure services gives you control over every aspect of your public cloud infrastructure with easy-to-use web interfaces, updates, patch management and automated consistency and compliance monitoring.
5 - Simplicity, flexibility, expertise and support
The cloud offers more flexibility versus a local hosting server. If you need an upgrade, for example, a cloud-based service can do it instantly, rather than you having to demand an expensive update to your IT team. This gives the company more freedom and flexibility.
You can deploy applications using the same skills, development tools, and system management solutions that you already know.
If you are considering a cloud migration, Red Hat and Microsoft solutions can help you. Microsoft is a member of the Red Hat Certified Cloud and Service Provider program.
And more, Red Hat and Microsoft provide an integrated support system for customers running Red Hat solutions on Microsoft Azure with multilingual engineers across 18 regions. So, it's a very good deal if you are considering this type of service.
6 - The integration of Red Hat OpenShift with Microsoft Azure
As the alliance between Red Hat and Microsoft has evolved over the last years, many people have wondered how one time competitors could be aligning on so many initiatives.

With organisations turning to containerised applications and Kubernetes to drive digital transformation and help address customer, competitive, and market demands, it's common that they'll need solutions to easily orchestrate and manage applications, across public and on-premise clouds.

Red Hat OpenShift on Azure is jointly engineered and designed to reduce the complexity of container management for businesses.

In addition to be a fully managed service, Red Hat OpenShift on Azure, brings enterprise developers:

Flexibility: Freely move applications between on-premises environments and Azure using OpenShift, which offers a consistent container platform across the hybrid cloud.
Speed: Connect faster, and with enhanced security, between Azure and on-premises OpenShift clusters with hybrid networking.
Productivity: Access Azure services like Azure Cosmos DB, Azure Machine Learning, and Azure SQL DB, making developers more productive.
7 - To be or not to be hybrid?
Some companies mistrust cloud solutions because they think it will somehow share their data and knowledge with the net or suffer a data breach. Although we know this is very unlikely to happen, we have to say that if you don't want to, you don't need to go "all in" the cloud for your infrastructure. You can have one foot in the cloud and keep the other one on your own datacenter.
This way you can rely on your local datacenter for some strategies and information and migrate other operations to the cloud to lower your costs.
Conclusion
Enterprise cloud adoption is growing in an exponential way, and it's understandable. With so many benefits like reduced costs, work improvements, security and agility, it stopped being a trend to become a bottom-line for companies.

Red Hat and Microsoft form an ideal cloud solution duo to support modern IT needs. The combination delivers:

High availability, reliability, and performance for demanding applications.
Enterprise-grade support and expertise from an integrated team eases the cloud migration.
Advanced security technologies protect your data, applications, and business.
Unified tools and visibility provide simple cloud management.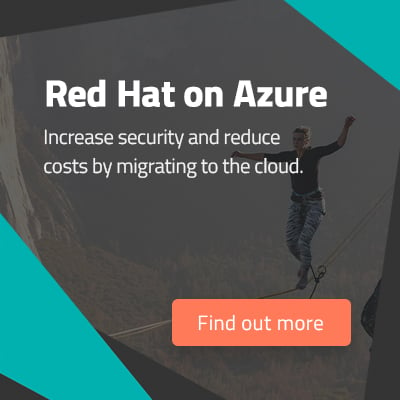 Contact us if you have any doubts or send me an e-mail: vitor.silva@syone.com.