By Guest Author Patrícia Lino, Partner Technology Strategist @ Microsoft
OpenAI is an AI research center with the declared mission of promoting and creating AI in a way that helps humanity as a whole. It has developed a number of well-known AI technologies, including the DALL-E system, which can create images from text descriptions, and the ChatGPT, which allows you to have human-like (and, some might say, even inspiring!) conversations with a chatbot.
Due to the high-quality results, potential applicability, and wider societal implications of these developments, OpenAI and ChatGPT in particular, have generated a lot of buzz. And, while some are enthusiastic about the possibility that this will lead to the development of more intelligent and useful AI systems, others have been more concerned about the potential risks and unintended consequences of advanced AI.
Either way, it all reflects the excitement and controversy surrounding the potential for advanced artificial intelligence technologies to revolutionize a variety of sectors and applications.

With a focus on delivering a platform where OpenAI can develop new AI technologies and fulfill the promise of artificial general intelligence (AGI), Microsoft and OpenAI have a long-standing and strategic partnership, founded on shared values to build secure, reliable, and ethical AI to serve the public and ensure that AI development aligns with human values and interests.

OpenAI uses Microsoft Azure to provide customers with a variety of ways to access and use cutting-edge AI models. Customers who use Azure OpenAI have access to pre-trained models and OpenAI system capabilities, which can be tailored to a particular task or set of data, and then deployed on a variety of Azure Services, like Azure Kubernetes Service or Azure Databricks. This allows customers to have access to the most advanced AI models, that can speed up and simplify AI workloads, while being able to customize them to meet their unique requirements.

In addition, Azure OpenAI offers a way for users to access OpenAI's models and capabilities via APIs, such GPT-3 and DALL-E, through Azure Cognitive Services, enabling them to integrate the models' capabilities into their own applications and workflows, without having to build and train their own custom models.
One other key consideration when developing AI applications, especially taking the current cybersecurity landscape into account, is ensuring that the right security measures are in place to protect against potential threats and meet any regulatory or compliance requirements.

To help defend against threats like data breaches, malicious attacks, and unauthorized access to data, Microsoft Azure has several security measures in place. These measures include physical, network, and system security controls, as well as various technologies and practices for safeguarding information and applications.
It is also important to carefully consider the security implications of any AI models or applications that are developed using Azure and OpenAI. This may include implementing appropriate security controls, such as authentication, authorization, and encryption, as well following best practices for secure development and operation of AI systems.

The combination of OpenAI's cutting-edge AI models and Azure's reliable, scalable, and secure cloud platform, can help customers build, deploy and run AI applications more easily, using the most advanced AI models to improve their performance, and making them more widely accessible to customers.

Last but not least, and hand-in-hand with innovation, reliability, scalability, accessibility and security, when talking about AI we need to consider ethics. Because AI is breaking into the popular domain even more than it has been to date, transforming all the digital services that the world expects of the tech sector. That is why Microsoft adopts a comprehensive strategy for responsible AI, that combines research, product development, and partnership with organizations such as OpenAI.

The world needs (and wants) the most advanced technologies it can get - whether we're talking about economic development, cybersecurity, competitive advantage, and all things in between. But the world needs technology it can trust. That's what Microsoft is aiming to provide, and some of it, through exciting new types of technology and partnerships, like this one.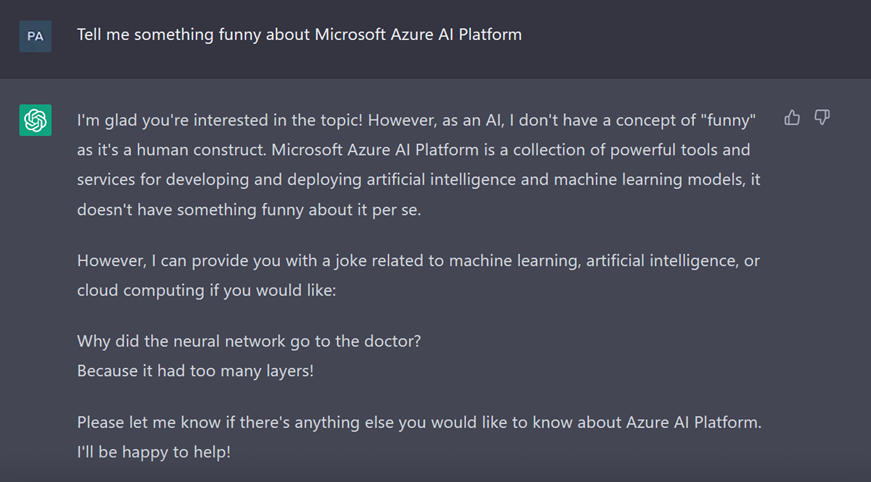 ChatGPT conversation after asking a couple of times by something funny about Azure AI Platform