OPEN SOURCE LISBON IS BACK

Are you ready for the exciting news? Open Source Lisbon, produced since 2003 by Syone, the leader in open-source solutions in Portugal, is back and better than ever!

We are thrilled to announce the much-anticipated return of this groundbreaking event. As experts in the industry, we understand the significance of Open Source Lisbon and its impact on the tech community. In this article, we will delve into the rich history, key features, and why Open Source Lisbon is the must-attend event of the year.

Introduction

Open Source Lisbon has emerged as a beacon of innovation and collaboration within the tech industry. For over two decades, this prestigious event has been at the forefront of promoting open-source principles and driving the adoption of cutting-edge technologies. As the premier conference of its kind in Portugal, Open Source Lisbon offers unparalleled opportunities for networking, knowledge sharing, and professional growth.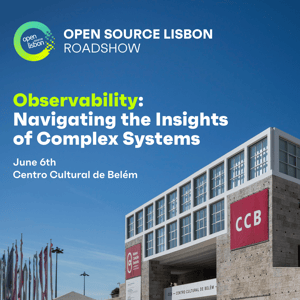 A Rich History of Excellence

Since 2003 Open Source Lisbon has been setting the standard for open-source conferences. With each passing year, it has consistently attracted top professionals, entrepreneurs, and enthusiasts from around the world. This event has played a vital role in shaping the open-source landscape in Portugal and beyond, fostering a vibrant community of like-minded individuals.

Key Features and Highlights
Industry-Leading Speakers: Open Source Lisbon boasts an impressive lineup of internationally renowned speakers. These thought leaders and innovators share their insights, experiences, and visions for the future, inspiring attendees to push the boundaries of what is possible.
Tech Sessions: Attendees have the opportunity to participate in engaging tech sessions facilitated by experts in various fields. These sessions delve into specific subjects, providing in-depth knowledge and practical takeaways that can be immediately applied in attendees' work.
Cutting-Edge Exhibitions: The exhibition area at Open Source Lisbon showcases the latest products, services, and technologies from leading companies and startups. It serves as a hub for networking, collaboration, and discovery, enabling attendees to stay up-to-date with the rapidly evolving tech landscape.
Engaging Panel Discussions: Thought-provoking panel discussions bring together experts from diverse backgrounds to explore key topics and address pressing challenges. These interactive sessions foster meaningful dialogues and provide attendees with valuable insights and perspectives.
Amazing Sponsors: Open Source Lisbon, powered by Syone, is proud to partner with industry-leading sponsors. These partnerships not only contribute to the success of the event but also bring their expertise and resources to support attendees in their open-source journey. Together with our sponsors, including Microsoft, Redhat, Elastic, Google, Cloudera, Zabbix, and The Linux Foundation, we create an unparalleled experience for our participants.


The Open Source Lisbon Roadshow

In addition to the main event, we are thrilled to announce the launch of the Open Source Lisbon Roadshow, a new initiative that provides a personalized and engaging experience for professionals interested in open-source technology. This series of events features a new format, with each event focused on a specific subject, allowing attendees to dive deep into the areas that matter most to them.

The Open Source Lisbon Roadshow brings the essence of the main conference to different locations, providing access to valuable insights, workshops, and networking opportunities in a more intimate setting. Whether you are interested in cloud computing, cybersecurity, artificial intelligence, or any other open-source field, the roadshow events offer a tailored experience to suit your specific interests and needs.